The following are some links that should convince you that it just makes sense. It's fun to be a computer scientist...and you get paid a lot for having that fun.  Visit the Bureau of Labor Statistics to learn more about the occupational outlook for your future career in Computer Science and Information Technology.
Computing Careers Web page maintained by Association for Computing Machinery including Top 10 Reasons to Major in Computing (PDF, 33KB)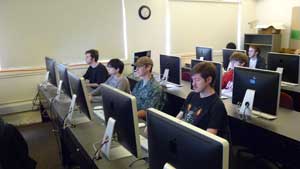 "Computing and computer technology are part of just about everything that touches our lives from the cars we drive, to the movies we watch, to the ways businesses and governments deal with us. Understanding different dimensions of computing is part of the necessary skill set for an educated person in the 21st century. Whether you want to be a scientist, develop the latest killer application, or just know what it really means when someone says "the computer made a mistake", studying computing will provide you with valuable knowledge."
Engineering, Computer-Science Pay More Than Liberal Arts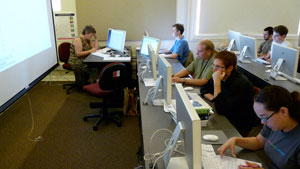 "The starting pay of certain liberal arts majors generally clocks in well below that of graduates in engineering fields, according to a Wall Street Journal study. Graduates with engineering degrees earned average starting pay of $56,000 in their first full-time jobs out of college, topping other majors. Communications and English majors only earned $34,000 in their first jobs." - Wall Street Journal
Want a Job? Get a Computer Science Degree
"Here's a tip for incoming and current college students: If you want to have a high-paying job on graduation day, study computer science." - NetworkWorld
Most Lucrative College Degrees
"What happened to well-rounded? There are far fewer people graduating with math-based majors, compared to their liberal-arts counterparts, which is why they are paid at such a premium. The fields of engineering and computer science each make up about 4% of all college graduates, while social science and history each comprise 16% [...]. As a result, salaries for graduates who studied fields like social work command tiny paychecks, somewhere in the vicinity of $29,000. English, foreign language and communications majors make about $35,000..."
Computer Science Major is Cool Again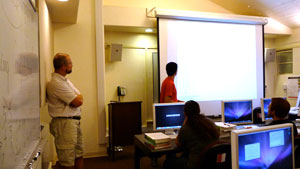 "CRA said the popularity of computer science majors among college freshmen and sophomores is because IT has better job prospects than other specialties, especially in light of the global economic downturn. "
"When you compare the demand for jobs with the production of computer science undergrads, we're way short. It's clear there's an opportunity here."
Tech Skills Crucial to Career, Students Say
"College students pursuing myriad careers agree that high-tech skills will take them further, and a majority expect to encounter new technologies they will have to master in the workforce."
Business Week: Recession-Proof Jobs
No. 2ÑSoftware Design/Development Median Salary: $85,000-$95,000
"Recession or no, there's still competition for the top engineering talent, especially in areas of the consumer, user-generated Web."
Forbes: 10 Most Recession-Proof Jobs
"Software designers write the programs to meet business needs. Computer software engineers are expected to be among the fastest-growing occupations through 2016, according to the Department of Labor."
GetRichSlow.com: The Best Recession-Proof Jobs
These article claims that studying Computer Science is the best way to ensure employment even in hard times.
Even in a Recession, Some Companies are Hiring
"Engineers of all kinds are in demand and are facing a rock-bottom jobless rate of about 3 percent, according to Gilliam of the Adecco Group North America. That compares with a nationwide unemployment rate of 8.1 percent last month."
National Science Foundation Report: Employment and Salaries or Recent Science Graduates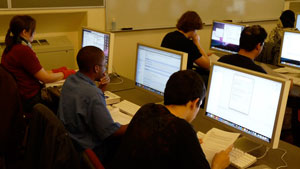 The report shows that starting salaries of recent Science graduates (2002-2006) are excellent. A new graduate with a Bachelor in Computer Science could count on an average salary of $45,000.00, while a graduate with a Master in Computer Science would do even better with a starting salary of $65,000.00.
'Chic Geek': Computer Science Major Rebounds
After decade of sharp declines, departments start to see first increases due to new approaches to the curriculum, new marketing and more jobs.
Employment and the Undergraduate Degree
Education Department study shows that college grads with Òcareer-orientedÓ majors are more likely to be settled in the workforce than their counterparts that graduated from other areas.
Why Programming is Fun (Dr. Dobb's Jan. 2007)
Why Choose a Career in Computer Science and Engineering
Videos from University of Washington about the bright prospects for interesting life as a computer science and engineering professional.
Computing Education and Future Jobs: National, State & Congressional District Data
"NCWIT now provides newly gathered data to help you raise awareness and advocate for change. The map [...] presents education and workforce data at the national, state, and congressional district level."